Missing and damaged teeth are a common problem for many people, dental implants offer a permanent solution to missing or damaged teeth.
If you are missing your natural teeth you may find that there are other things you miss too. Without dental implants, you may miss your natural smile or find that you're not able to eat the food you desire. Some people experience muscle strains and discomfort as the remaining teeth shift. But it doesn't have to be this way.
For more information on dental implants please also see:
What is a dental implant?
A dental implant is a small man-made titanium screw that serves as the replacement for the root portion of a missing natural tooth. The implant is placed in the bone of the upper or lower jaw and allowed to bond with the bone and serve as an anchor for the replacement tooth. Dental implants can be used to replace a single lost tooth or many missing teeth. Dental implant supported replacement teeth look, feel and function like natural teeth. Dental implants are a proven restorative option with a long clinical history. Dental implants preserve the integrity of the facial structure and reduce the inconvenience associated with tooth loss.
How do dental implants work?
Click to watch the video below to help understand the process.

Who is a candidate for dental implants?
A dental implant is for anyone that is missing one or more of their teeth. You may be a candidate for dental implants if you are missing teeth due to injury, disease or decay. If one, a few or all teeth are missing, dental implants in conjunction with a crown or bridge can replace those teeth. Occasionally, older patients express concern that their age may prevent them from enjoying the benefits that dental implants offer. However, health is more of a determining factor than age. If you're healthy enough to have a tooth extracted, you're probably healthy enough to receive dental implants. Your dentist will determine if you are a candidate for dental implants after a careful evaluation of your dental and medical health history. At this time all your questions about dental implants can be answered. Read more about the types of dental implants we provide.
Is there any pain or discomfort involved in a dental implant procedure?
Most dental implant patients report that there is very little discomfort and that they were much more comfortable following the procedure than they anticipated. Brånemark System, Replace and Steri-Oss dental implants are placed in a very gentle fashion and care is taken to the various tissues involved. Anesthesia and patient sedation are used to eliminate any discomfort during the implant procedure. Your dentist may recommend that you speak with another patient who has already had tooth replacement therapy to assess their personal experience.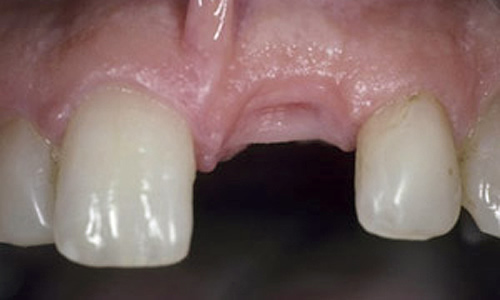 Before Dental Implant Treatment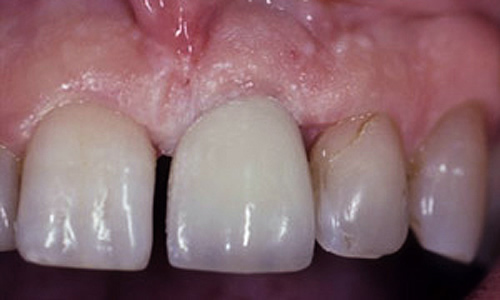 After Dental Implant Treatment
How will I benefit from dental implants?
The benefits of dental implant treatment include appearance, the enhanced ability to chew and enjoy your food, and often protection of your remaining teeth and jawbone. Dental implants offer many benefits never before available for the treatment of missing teeth. In short, dental implants will look, feel and function like your real teeth. Read more about the benefits of dental implants and how we minimise any risks of implants. You can also view some of our previous patients before and after photos of dental implants.
How long will the dental implant treatment take?
Dental implant treatment time will vary depending on your particular situation. Nowadays it is often possible to get well-functioning and aesthetic looking teeth within a few days. In some cases it may be necessary to wait longer before finishing the restoration of your dental implant in order to obtain an optimal result. Read more about our dental implant procedure.
Will I ever be without my teeth?
This depends on your situation. Most patients can leave the office wearing some type of temporary prosthesis.
Click to watch the video below to see a couple of the temporary options.

How much will dental implants cost?
The fee for tooth replacement with dental implants will depend on several factors, including the number of teeth being replaced and the number of dental implants required to support your replacement teeth. It is important for you to know that you do not necessarily need a dental implant for each missing root. Some additional procedures may be required prior to the placement of your dental implants to ensure the long-term health of your dental implants. To obtain a specific fee estimate, it is necessary to have a doctor examine your mouth, however you can view our standard dental implants costs. After a diagnostic examination, your dentist will recommend the treatment that is best for you and what your investment would be for the implant procedure.
How long do dental implants last?
Nobel Biocare, who produce the Brånemark dental implants we use have experience from over 40 years of replacing missing teeth with dental implants. Dental bridges supported by dental implants have been shown to last over 15 years in 90 of cases. We have every indication that they will last for much longer. Most patients can expect their dental implant to last a lifetime. The first patient received his dental implants more than 40 years ago and they are still functioning today.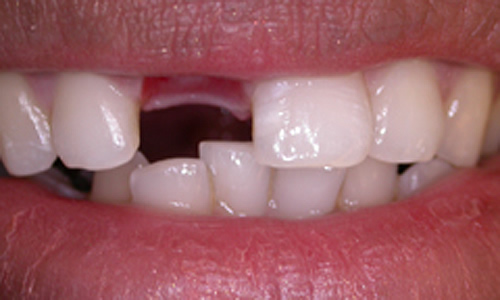 Before Dental Implant Treatment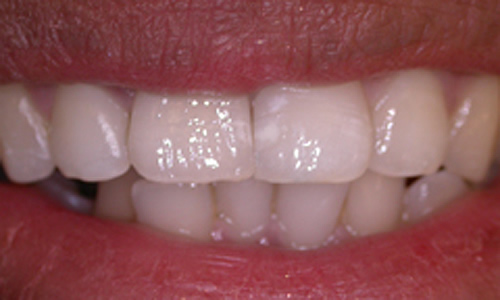 After Dental Implant Treatment
How long has dental implant treatment been performed?
Dental implants are not new to the dental field. Prof. Brånemark started his research in the early '50s and has revolutionised implants, as we know them today. Prof. Brånemark placed his first osseointegrated dental implant in a patient in 1965, after many years of preclinical studies.
Dr Sanei is our specialist implantologist at Dental Perfection, with over 15 years of experience in this highly specialised field and is highly experienced and exacting in placing and restoring dental implants.
Dental implants in Hampstead, North London
We'll answer any concerns or dental implant questions you may have and help to make your experience as relaxed, comfortable and rewarding as possible. Call Dental Perfection today to book your dental implant consultation with our team on 020 7431 2710.
We have been working with clients from all over North London (including St Johns Wood, Belsize Park, Highgate, and Swiss Cottage) from our Hampstead clinic since 1979.
Our North London premises are less than a minute's walk away from Hampstead Underground Station.